Communicate the Financial Impacts of Lean Projects with this Free Project Benefits Template
Save your program from budget cuts
Communicate the financial impact of your improvement project
Calculate the Hard and Soft Financial Impact Projects
Get more support for Lean/ 6Sigma initiatives
Improve your financial reputation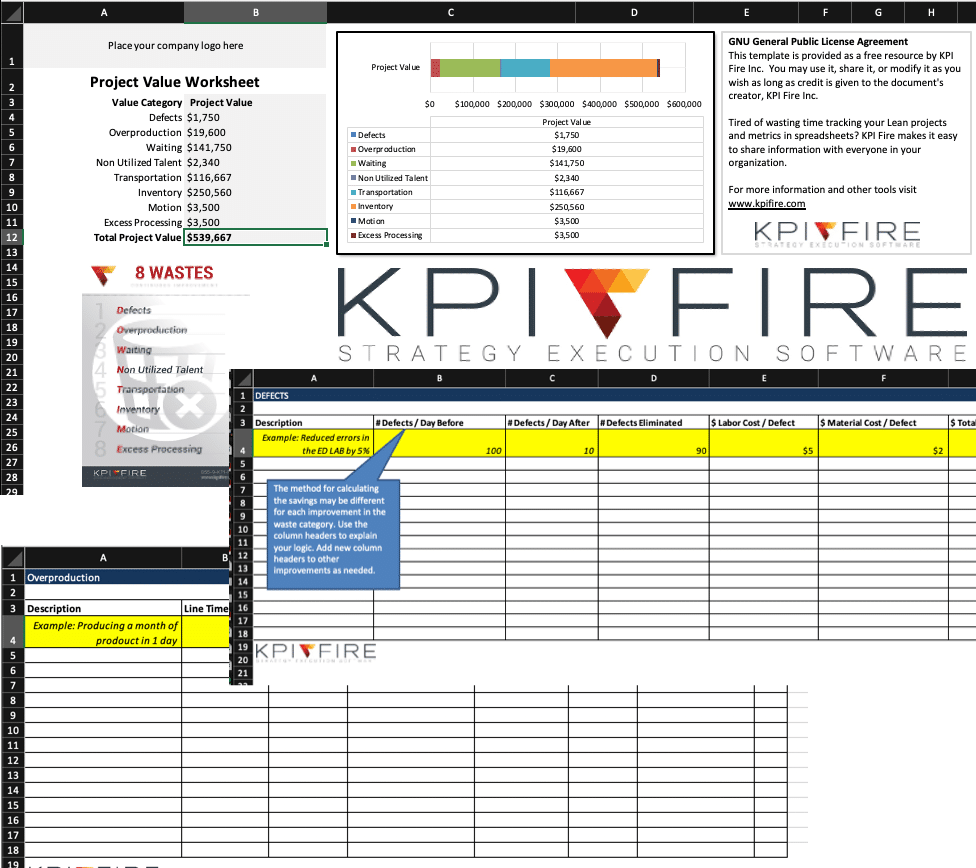 Free Benefit Calculator
By downloading this template you will receive occasional emails from KPIFire. You can unsubscribe any time & we do not sell your information.
KPI Fire's Free Lean / 6 Sigma Project Benefits Template
Included in this free Excel Template for Calculating Lean / 6 Sigma Benefits:
What are the 8 Wastes
How to convert changes in Defects, Overproduction, Waiting into Hard or Soft Financial benefits
Editable, and customizable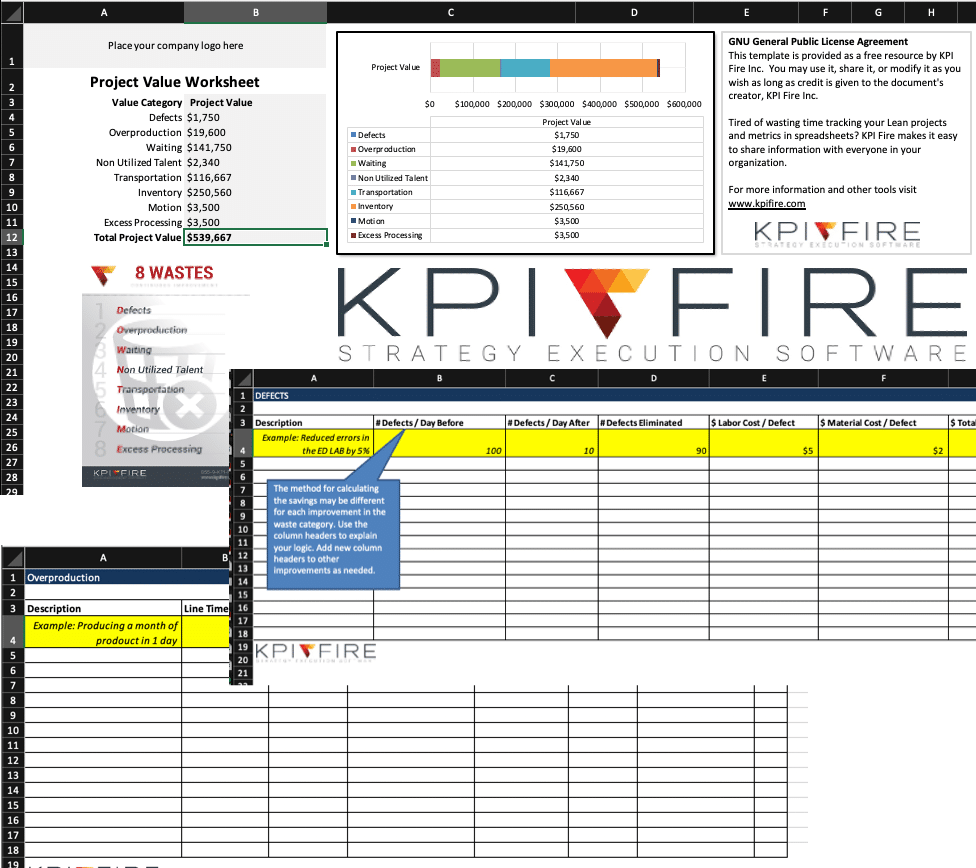 We've made it simple by providing you with a free Excel template to help you calculate and communicate the benefits of your vision!
Whether you're building a new plant or taking on a new project, you should conduct a cost-benefit analysis to evaluate all the potential costs and revenues that your company might generate from the project. The outcome of the analysis will determine whether your project is financially feasible or if the company should pursue another project. By considering all options and the potential missed opportunities, your cost-benefit analysis is more thorough and allows for better decision-making.
This is the very same project Benefits Excel Template that Cedro Toro (Master Black Belt) uses as part of his Green Belt Training to teach how to calculate project benefits.  This worksheet template will help you quantify simple changes in factors such as a reduction in defects and how to turn that into hard and soft savings for the organization.
6 Steps to Calculating and Communicating Project Value
Identify the improvements you've made or plan to make.

We did a process flow optimization for our nursing staff
We worked on yield issues in the factory

Quantify each improvement.

We reduced 300ft of walking each day for the nursing staff.
We improved the yield of this product from 85% to 93%, an 8% increase.

Translate the project value into KPIs that someone at the leadership level will care about (read: DOLLAR$).

300ft each day is 10 minutes for 12 nurses is 120 minutes per day or 2 hours at $45/hour = $90
8% yield at $23 per unit = $1.84 saved per unit

Annualize the savings. Most lean projects count savings for a period of 12 months. At this point the new process is considered the Standard and savings no longer apply.

$90 per day X 250 days per year = $22,500 labor saved per year or ¼ of an employee
8% yield at $23 per unit for 358,000 units per year = $658,720 per year

Make your KPIs visible to management

Report out using a combination of data and a Gemba Walk (going to the place where the process improvements were made) to showcase the amazing work you are doing. This will help management understand and support additional process improvement efforts.

Make your KPIs visible to your team

Showcase the savings and other improvement metrics to your team. Throw a team party. Verbally recognize them in front of management and their peers. Studies show this is often the most effective form of motivation.
Manage Lean / 6 Sigma, Continuous Improvement Projects with KPI Fire Software
KPI Fire is software that can manage your continuous improvement projects and track project benefits.
Check out this video to see how KPI Fire manages Projects & Project Savings.