The Modern Version of the X Matrix
The X Matrix is a tool used to help companies execute their strategic plan. It links strategic goals with department goals, metrics and projects throughout the organization.
A wise leader once said, "Spreadsheets are where great strategies go to die."
While the concept of the X Matrix is conceptually correct, in today's complex and globally disbursed organizations traditional X-matrices built in Excel are unwieldy at best. X Matrix spreadsheets are difficult to read and requires a lengthy training to understand. You can't collaborate or see real time updates on goals or metrics.
KPI Fire is the simple, visual way to accomplish the objectives of an X Matrix plus give your team more tools to execute your strategy. Request a live demo to learn more.
KPI Fire simplifies the X Matrix into a visual waterfall linking company goals to department goals to metrics and projects.
With KPI Fire you can track objectives in real time and show the proof they are having an impact on your KPIs. KPI Fire makes strategy execution simple and gives your entire team the power to reach their goals.
KPI Fire applies the same principles of the X Matrix but in a more visual and collaborative tool. visualize the connections. With KPI Fire you can establish goals and projects throughout your company in minutes. What's even better is that everyone in the organization will understand the plan in seconds. Teams can share projects, update metrics, and show progress toward their goals. Everyone from the CEO on down can see real time updates from their PC or iPhone. Its simple. It's easy. It's KPI Fire… and it's a whole lot better than a spreadsheet.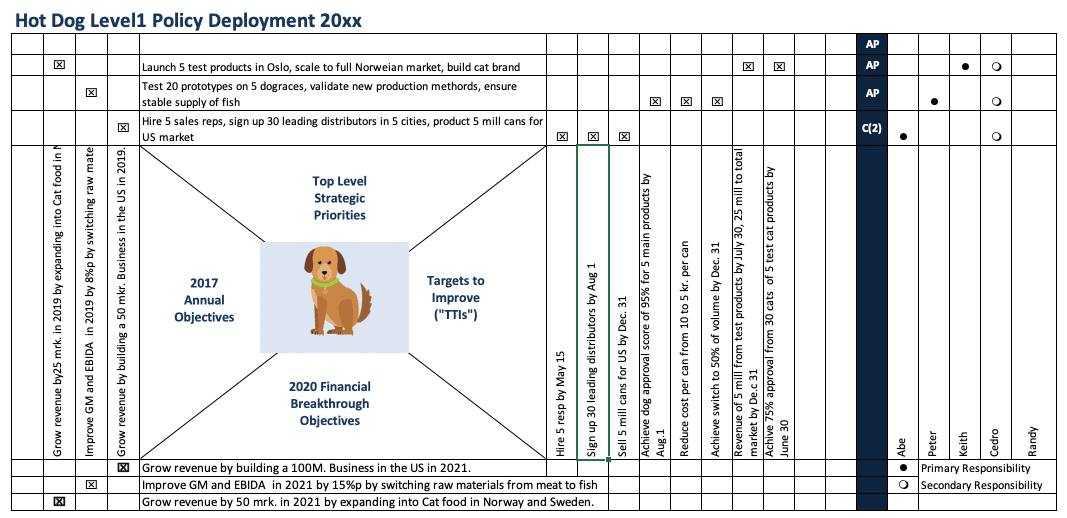 Above is an example X Matrix. The X Matrix places long term goals on the first set of rows. These are linked to annual goals on the first set of columns. At this point goals can be linked to metrics or continue to drill down to lower level goals. Finally goals are linked to projects and tasks. This is the work that must be accomplished to reach the goals.
The X Matrix links goals, metrics, and projects using the intersection of rows and columns of the items that are connected. This can be confusing and complex as you add goals for various departments thus adding layers to the X Matrix . An X Matrix for a large organization can have dozens of tabs and take hours to keep updated.
KPI Fire takes the same principles of alignment in the X Matrix and simplifies the visual linkages. You can quickly see how each department or individual's goals are aligned to higher level company goals with the click of a button.
KPI Fire Transforms the X Matrix into a Simple Visual Waterfall
Visualize the Linkage Between Goals, Metrics and Projects
With KPI Fire you can clearly see the metric that will be improved by the project you are working on as well as which goals and initiatives your project supports. KPI Fire takes the complexity out of the X Matrix and helps your company stay aligned to your strategy.