Balanced Scorecard Example
Looking for a Balanced scorecard example that you can use to help move your strategic planning effort forward? Follow these simple steps to build your own balanced scorecard in KPI Fire, or create something similar in Excel or PowerPoint.  One of the great advantages of using KPI Fire is that it is a centralized, web based database that can be a single source of truth for all of your Strategic Planning needs.
The Four Perspectives of a Balanced Scorecard
The typical balanced scorecard will have goals in each of the following "perspectives"
Financial: These are financial goals, usually lag measures such as Revenue, Ebita, or Growth.
Customer or Stakeholder: These are goals to help focus on the outcomes that your customers or stakeholders receive.  Common goals here are about market share, or customer happiness or loyalty, such as Net Promoter Score.
Business Process Goals: These are goals focused on the "how" you go about achieving the Financial & Customer goals. This is where most Operational Excellence, or Process Improvement goals belong.
Organization Capacity/Learning & Growth/Culture: These goals typically refer to employee happiness, or employee development, or goals to develop certain capabilities as an organization.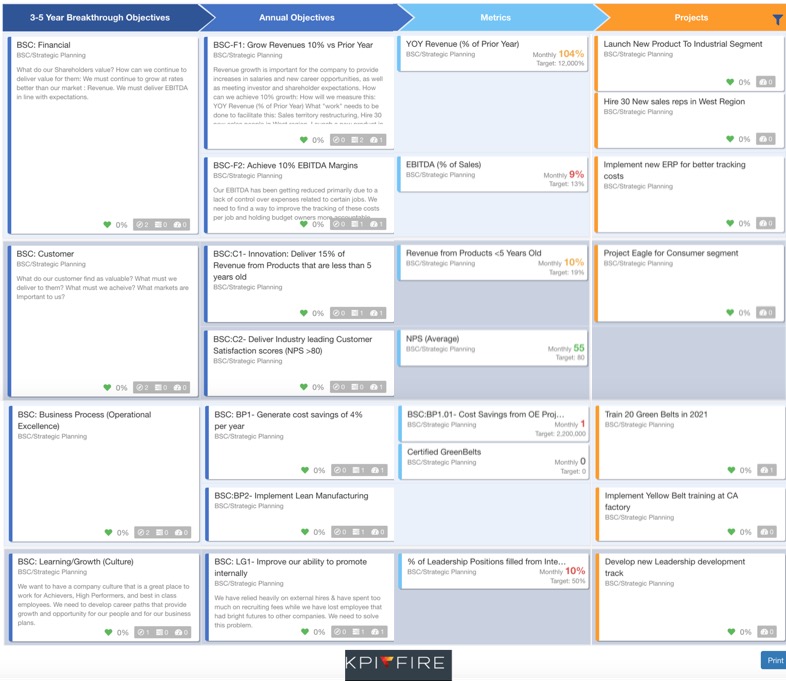 Part 2: Conducting the Monthly Strategy Review
Preparation: A few days to a few hours before the meeting. Consequently, prior to the strategy review meeting each metric owner should update the metrics that they own.
Here are a few tips to accomplish this:
Preparation
Unfortunately, companies spend time developing annual strategic plans. However, few really excel at managing to the plan.  Surprisingly, the monthly strategy review is where you can really make progress on your goals presently. Secondly, you can find out where things may be falling short so you'll have time to take a corrective action.
Establish Red/Amber/Green zones for metrics straightaway.
Meanwhile, gather your Metric data prior to the meeting.
Explicitly separate Projects (stuff you are doing), from the Metrics (what you will measure).
Markedly, celebrate the "Green", and spend time on the Red/Amber.
Have a conversation. The purpose of the strategy review is to bring potential issues to the surface and especially make plans to resolve them.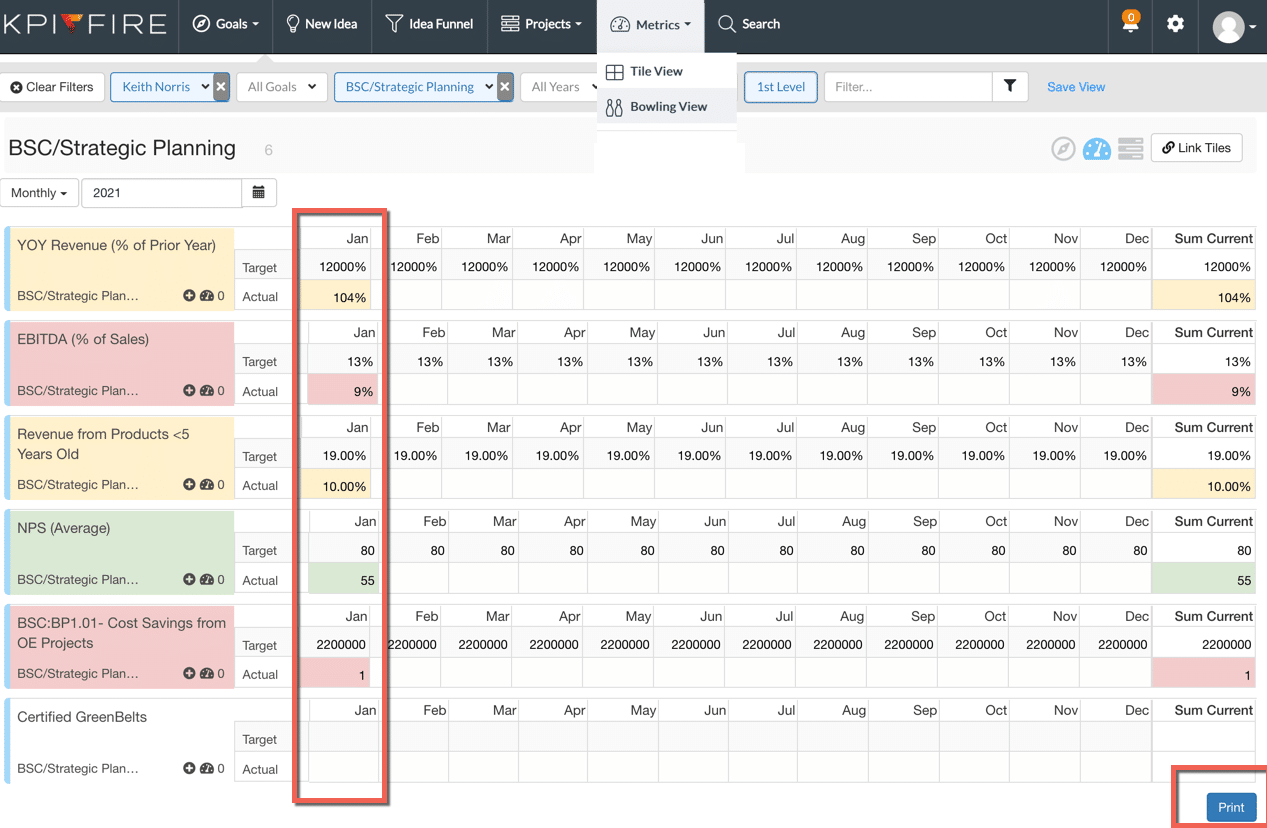 Consequently, use the Metric > Bowling View to determine if your values have been updated for a given month. If you are comfortable working from the web interface, then go for it! Alternatively, if you would be more comfortable printing out the pages, use the print option.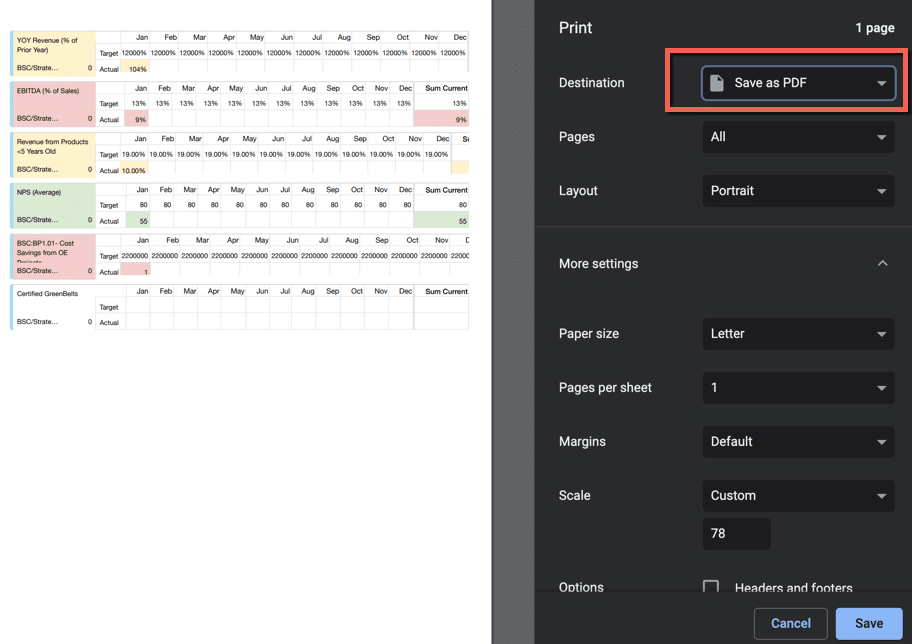 For the Balance Scorecard Example Review Meeting
If you would like to use the live software for your BSC strategy review:
Locate & Select your Saved View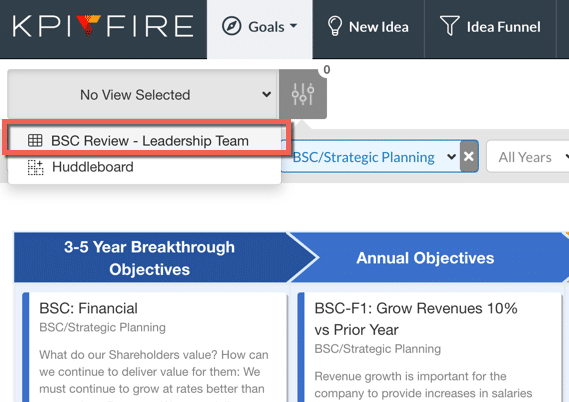 If you prefer to print or send out a PDF, then you can use the print option at the bottom.
As a result, tips for your Balanced Scorecard Example Review meetings:
1- Use this time to confirm if the right goals, metrics, and projects are listed straightaway. If there is a goal that has changed, or consequently, a project that has been killed, this is a great time to make sure everyone is made aware.
2- Celebrate successes, but spend your time focusing on the Red & Yellows. Each item in KPI Fire will have a Red/Yellow, or Green indicator.  The majority of the time you have allocated for the review should be spent discussing what to do about KPIs that are not on track.
3- Create corrective actions as new projects.  If you have a metric that is significantly off track, then you may need to create a new project as a corrective measure.  Not only can create the project during or after the meeting, but also make sure it shows up in time afterwards.
4- Expect Changes: accordingly, the data in the BSC may or may not be 100% accurate. The attendees at the meeting may not always agree on the status of a vague KPI. The most valuable part of the meeting is in the dialogue that is consequently generated.