Updates to the Project Benefits Feature
This post describes the changes to the Project Benefits feature scheduled to be released May 27-31.
What's New?
The Project Benefits feature in KPI Fire  has a huge amount of value for organizations that would like to document the financial impact of their improvement projects. We are making some changes to this feature to make it even better.
Benefit Accounts
Easier to manage a set of Benefit Accounts.

Previously accounts admins had to manage this list of benefits for each workflow.
Now: Project Benefit Accounts are managed as part of your Default workflow.
Project Benefit Savings
Easier to visually see which Benefits are applicable to a specific projects, and easier to audit Project Benefit Savings.

Previously: A Project Benefit placeholder was added to every project.
Now: You will only add the Project Benefits that are applicable to your project.
Benefit Descriptions
Project Benefit Description are more visible and easier to input and find. These were previously labeled as "Notes" and hidden behind a notes tab.

Previously: Notes were only available on the "notes" tab, or by opening a Project benefit tile & navigating to the notes tab.
Now: Notes can be entered on initial creation and are visible from Bowling view.
Easy to associate a Project Benefit with a project.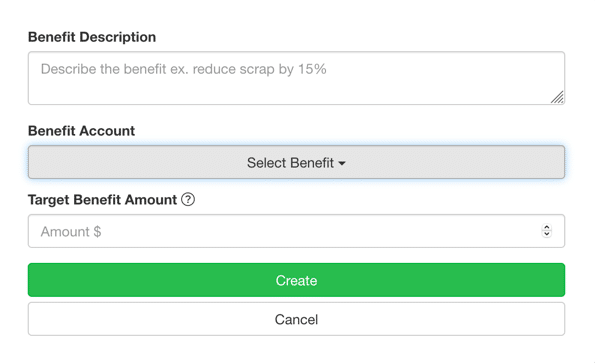 Use the description input when creating a new benefit or the notes field to define individual benefits.

Benefit Budget Report
Improved Project Benefit Budget Report.  We have created a simple, single screen that allows program coordinators to assign Budget Amounts by department and by savings category.

Previously: Project Benefit report was created based on linked goals and metrics.
Now: Project Benefit Report: Bar Chart displays all Project Benefits Target, Actual and Budget amount for selected departments.
Create Budgets for each Project Benefit Type, and for each department.  (optional)

Question to Ask: Do we have enough projects identified?
Scenario #1 Illustrates an example where there are enough projects with total benefit identified, but now the projects need to be completed.
Scenario #2 represents an example where even if all of the projects are completed successfully, you will be short of the savings goal.

If you have a large number of workflows active in your account, this update may require some changes in your account. Our account managers are ready to assist you in migrating your project benefit accounts and helping you prepare for this change. Please contact us if you have any questions.